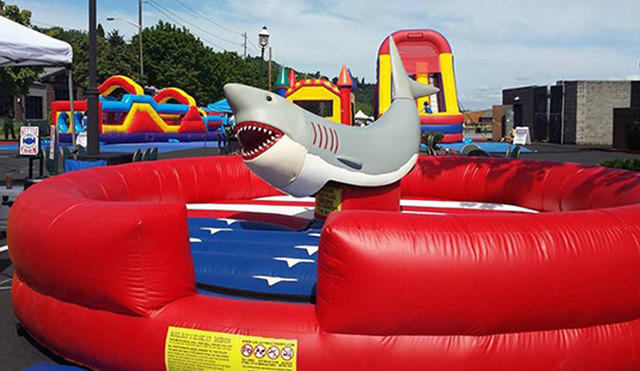 Mechanical Shark Rental
Setup Area: 23L x 23W x 10H
Outlets: 2




Mechanical Shark Rental Chicago IL and Suburbs
Includes 2 Attendants. Features Soft, Safe foam head. There are pre-set automatic competition levels which are linked to the LED time clocks. Auto Stop System, which insures the ride stops when riders fall off. Requires 2 Outlets. Setup Area Required:20L x 20W x 10H. Weight limit 350lbs. $1245 for four hours, Additional hours are $225. Please call for more specifics.
Check out all of our American Patriotic Inflatable Rentals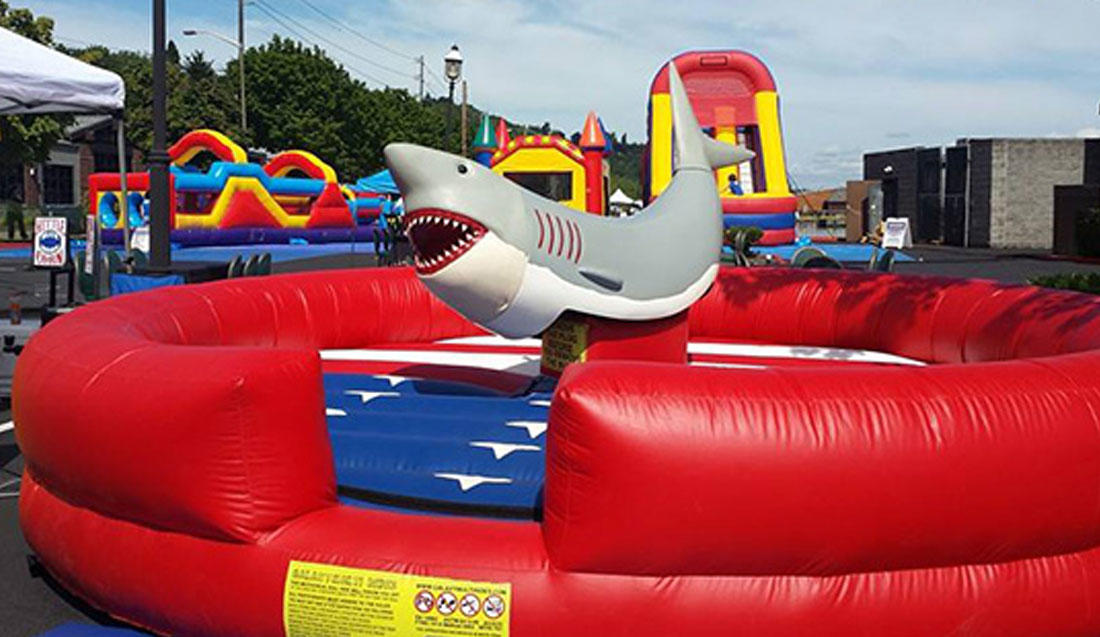 Safety is very important for us, therefore our Mechanical Sharks feature soft, safe heads. Automatic stop system ensures the Shark stops once a rider has fallen. This key safety mechanism is standard with all our rentals.Our inflatables are impeccably maintained, and are fenced all around. Deluxe Mechanical Shark Rental includes Inflatable. We also have a Mechanical Bull Ride, for all your Western themed or Patriotic parties & events. Great for school events, Teen parties, Post prom events, Birthdays, and All other celebrations! We picture our actual Sharks with inflatables, which ensures you are not surprised with something different the day of your event.
Mechanical Shark Rental, Chicago IL. Great for Luau & Tropical parties. Chicago Mechanical Shark Rental.
Party Rental Chicago Illinois. Children Party Shark Rental, Kids Mechanical Shark Rental Chicago.Mechanical Shark, Mechanical Shark Rental. Western Theme Event Rentals. Chicago Mechanical Shark Rental, Bar Bull Events in Chicago IL Chicago Shark Party Rentals, Chicago Party Rentals, IL Chicago Party Rentals, Chicago Mechanical Shark , Bars & Adult Parties Mechanical Shark Chicago Party Rentals, Mechanical Shark Rentals, Chicago Mechanical Shark , Mechanical Shark , Event rentals Chicago, Mechanical Shark Rental Chicago, mechanical machine rental Chicago.