Dunk Tanks
Chicago Dunk Tank Rentals
Proudly serving Chicagoland & Suburbs.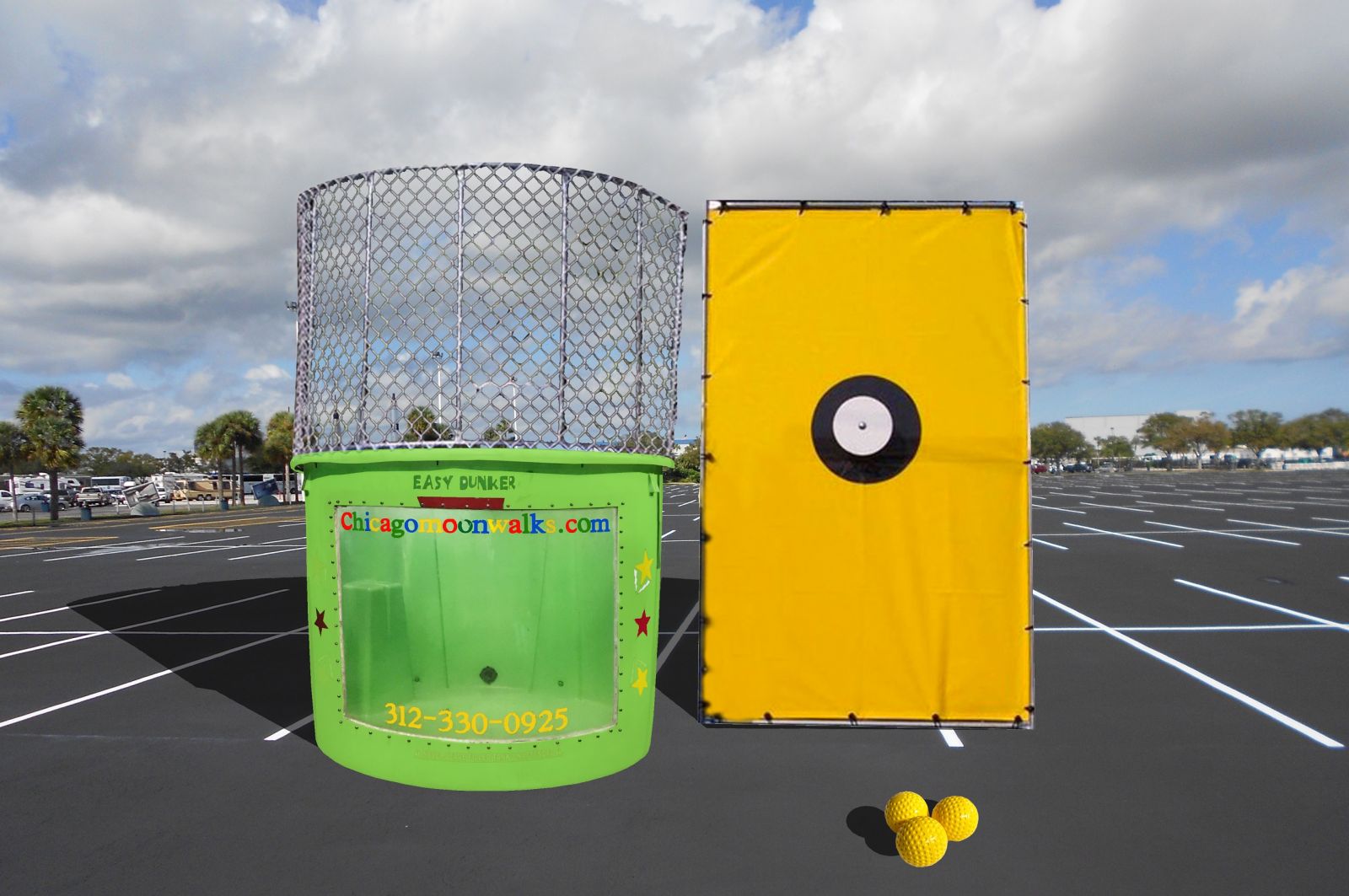 The Funniest, Coolest way to have Fun & Cool Off this Summer!Best way to get back at your Neighbors, Your Friends, Co-Workers, Your Boss, or even Your Spouse!
Please check our Service Area for all the cities we deliver to.
Please be sure to measure your backyard or location prior to choosing a Dunk Tank.



Service and Delivery Areas
We Deliver To The Following Areas
Chicago Illinois and Nearby Suburbs & Cities
If your city is not listed, we might be able to service your event. Please contact us for more information. 312-330-0925.
*We may deliver to your city, depending on the date of your event, and the size of your order.
We may service the following cities and areas within Illinois: ADDISON ALGONQUIN* ALSIP ARLINGTON HEIGHTS* AURORA* BARRINGTON* BARTLETT* BATAVIA BEDFORD PARK BELLWOOD BENSENVILLE BERKELEY, BERWYN BLOOMINGDALE* BLUE ISLAND BOLINGBROOK* BOURBONNAIS BRIDGEVIEW BROADVIEW BROOKFIELD BUFFALO GROVE* BURBANK BURR RIDGE CALUMET CITY* CALUMET PARK* CAROL STREAM* CARPENTERSVILLE* CHICAGO CHICAGO HEIGHTS* CHICAGO RIDGE CICERO CLARENDON HILLS COUNTRY CLUB HILLS* COUNTRYSIDE CRESTWOOD DARIEN DEERFIELD* DES PLAINES DIXMOOR DOLTON DOWNERS GROVE* DUNDEE* ELGIN* ELKGROVE VILLAGE* ELMHURST ELMWOOD PARK EVANSTON EVERGREEN PARK FLOSSMOOR* FOREST PARK FOREST VIEW FORT SHERIDAN* FOX RIVER GROVE* FOX VALLEY* FRANKFORT* FRANKLIN PARK GLEN ELLYN GLENCOE* GLENDALE HEIGHTS* GLENVIEW GLENWOOD* GOLF HANOVER PARK* HARVEY HARWOOD HEIGHTS HAZELCREST* HICKORY HILLS HIGHLAND PARK* HIGHWOOD* HILLSIDE HINES HINSDALE HODGKINS, HOFFMAN ESTATES* HOMER GLEN* HOMETOWN HOMEWOOD* INDIAN HEAD ITASCA JOLIET* JUSTICE KENILWORTH LA GRANGE PARK LA GRANGE LAKE BLUFF* LAKE FOREST* LAKE ZURICH* LANSING* LEMONT LIBERTYVILLE* LINCOLNSHIRE* LINCOLNWOOD LISLE LOCKPORT* LOMBARD LONG GROVE* LYONS MARKHAM MATTESON* MAYWOOD MCCOOK MEDINAH* MELROSE PARK MERRIONETTE PARK MIDLOTHIAN MOKENA* MORTON GROVE MOUNT PROSPECT* MUNDELEIN* NAPERVILLE* NEW LENOX* NILES NORRIDGE NORTH CHICAGO* NORTHBROOK* NORTHFIELD NORTHLAKE OAK FOREST* OAK LAWN OAK PARK OAK BROOK OAKBROOK TERRACE O'HARE OLYMPIA FIELDS* ORLAND PARK PALATINE* PALOS PALOS HEIGHTS PALOS HILLS PALOS PARK PARK RIDGE PLAINFIELD* PLATO CENTER* POSEN PROSPECT HEIGHTS* RIVER FOREST RIVER GROVE RIVERDALE RIVERSIDE ROBBINS ROLLING MEADOWS* ROMEOVILLE* ROSELLE* ROSEMONT SCHAUMBURG* SCHILLER PARK SKOKIE SOUTH HOLLAND* STICKNEY STONE PARK STREAMWOOD* SUMMIT TECHNY* THORTON* TINLEY PARK* VERNON HILLS* VILLA PARK WARRENVILLE* WEST CHICAGO* WESTCHESTER WESTERN SPRINGS WESTMONT WHEATON* WHEELING* WILLOW SPRINGS WILLOWBROOK WILMETTE WINFIELD* WINNETKA WOOD DALE WOODRIDGE WORTH
We may service the following zip codes within Illinois:60004, 60007, 60016, 60017, 60018, 60019, 60025, 60026, 60029, 60043, 60053, 60062, 60065, 60068, 60076, 60077, 60082, 60091, 60093, 60101, 60104, 60105, 60106, 60108, 60126, 60130, 60131, 60133, 60137, 60138, 60139, 60141, 60143, 60148, 60153,60154, 60155, 60157, 60160, 60161, 60162, 60163, 60164, 60165, 60171, 60172, 60176, 60179, 60181, 60187, 60191, 60201, 60202, 60203, 60204, 60208, 60209, 60301, 60302, 60303, 60304, 60305, 60398, 60402, 60406, 60415, 60419, 60426, 60428, 60439,60440, 60445, 60446, 60448, 60452, 60453, 60454, 60455, 60456, 60457, 60458, 60459, 60462, 60463, 60464, 60465, 60467, 60469, 60472, 60480, 60482, 60490, 60499, 60501, 60513, 60514, 60515, 60517, 60521, 60522, 60523, 60525, 60526, 60527, 60532,60534, 60540, 60546, 60558, 60559, 60561, 60563, 60564, 60565, 60570, 60601, 60602, 60603, 60604, 60605, 60606, 60607, 60608, 60609, 60610, 60611, 60612, 60613, 60614, 60618, 60622, 60623, 60625, 60626, 60629, 60630, 60631, 60632, 60634, 60635,60638, 60639, 60640, 60641, 60642, 60643, 60645, 60646, 60647, 60650, 60651, 60652, 60654, 60655, 60656, 60657, 60659, 60660, 60661, 60706, 60707, 60712, 60714, 60803, 60804, 60805, 60827