Bounce House Rentals and Water Slide Rentals in Glenview IL
---
Inflatable Water Slide Rentals in Glenview IL & Bounce House Rentals in Glenview IL
Why Choose Us? We are very popular, and for a very good reason...we are reliable. We will show up, with the correct equipment, and provide you with clean and sanitized items. We are fully insured, prompt and courteous. With hundreds of items to cater to your entertainment needs, we are Chicago's 1st choice for your party rentals. Some of our popular items for rent in Glenview IL: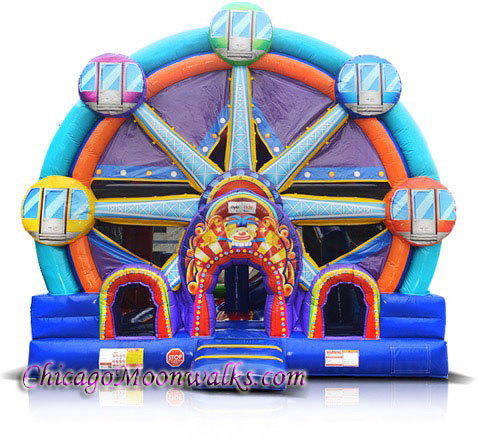 We Provide Fun party rentals to Glenview, IL of equipment that can add fun and entertainment to a party or event. These rentals can range from inflatables such as
Bounce Houses
,
Combo Bounce Houses
,
Water Slides
,
Mechanical Bulls
and
Obstacle Courses
, to games such as Carnival Games,
Carnival Rides
, and
Virtual Reality Roller Coaster
. We also provide
Photo Booths
and
Concession Stands Machines
including
Popcorn
,
Cotton Candy
,
Sno Cone
,
Pizza Oven
, and
Hot Dog Machines
. They can be rented for a variety of events, including block parties, birthday parties, school celebrations, church events, college events, corporate events, weddings, and community gatherings. By renting these items, party hosts can provide a variety of entertainment options. Additionally, we provide delivery, set-up, and take-down services, making the process of organizing a party or event much easier and stress-free. With a variety of colors, characters and sizes, you will definitely find the perfect themed inflatable for your event.
We also provide
Tent, table, and chair rentals
necessary for outdoor events. These rentals typically include tents to provide shelter from the elements, tables and chairs to provide seating for guests, and items to make your event more comfortable. Tents can range in various sizes that can accommodate your events. They can be used for a variety of events, including weddings, corporate events, festivals, and outdoor parties. Table and chair rentals typically include a variety of styles and sizes to suit the specific needs of your event. We offer adult and children's sizes. By renting these items, event hosts can create a comfortable and functional space for their guests, even in outdoor settings where there may not be existing seating or shelter.
You can reserve your equipment with our easy to use online reservation system or you can call our office and speak to one of our friendly party experts.
Order-by-Date

Combos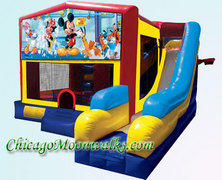 Moonwalks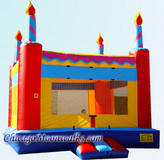 Waterslides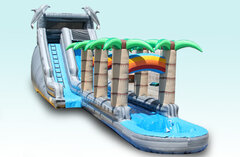 Interactive Games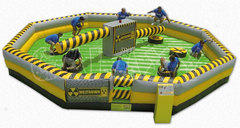 Obstacle Course Rentals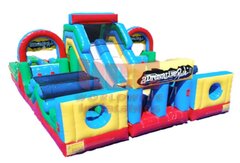 Dunk Tanks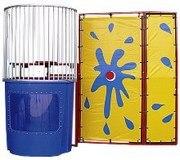 Carnival Games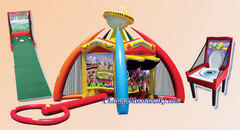 Mechanical Bull Rentals and Surf Machines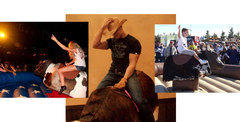 Concessions and More

Flavors and Extras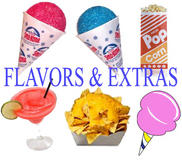 Toddler Inflatables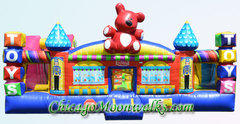 Indoor/Outdoor Bounce Houses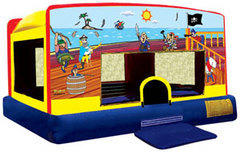 Dry Slides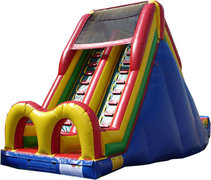 Airbrush Face Paint Glitter Tattoos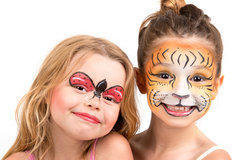 Tents Tables Chairs Rental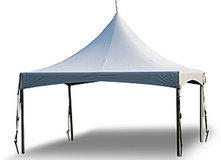 Photo Booth Rental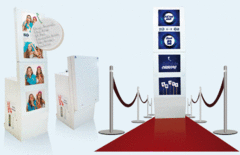 Packages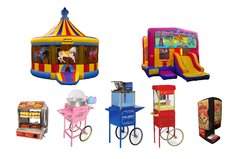 Popular Party Themes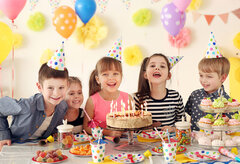 Other Misc.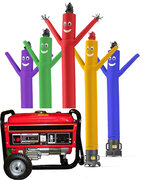 Halloween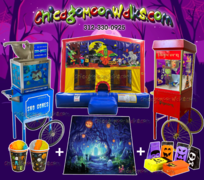 Gift Cards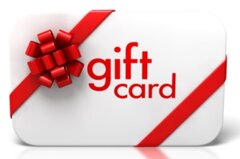 Bounce House Rentals in Glenview IL Also known as Moonwalks, Jumping Jacks, Bouncy Castle, Inflatable Castle or Inflatable fun house. We provide a variety of styles and sizes, Including Inflatable combos with Slides in Glenview IL. With different themes to suit any type of event or celebration. If you have a small yard, or if it is cold outside, you can rent one of our Indoor Moonwalk Rentals Glenview IL. A great way to entertain children, with hours of fun at your next birthday party, Corporate Event Rentals, High School Celebrations & Events, Family Reunions or Block Party. We Sanitize all our units after each use.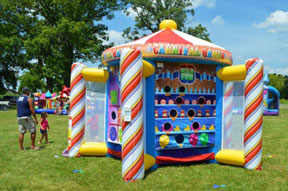 Carnival Game Rentals in Glenview IL We offer a variety of Carnival Games & Frame Game Rentals. We also have Tug-of-war Rope, Parachute Games, Duck Pond and Kiddie Hi-Striker Games. Carnival tents and tables are also available. Our carnival games are great for Corporate Parties, Family Reunions, Holiday Events, Birthday Parties, Backyard Parties, Block Parties, Daycares, High Schools, College & University Functions. We serve all types of events!

Mini Golf LED Rentals in Glenview IL A great rental for any event is our 9 Hole Portable LED Mini Golf Rental. Our beautiful Mini Golf Course is a fun addition to any event. This course is extremely popular for Birthday Parties, School Carnivals, Christmas parties and Corporate events. The price includes putters, golf balls, pencils and score cards. Play for fun or create some friendly competition with a tournament. The best thing about our course is that it includes LED lighting. Can you say glow in the dark mini golf parties ! Our 9 Hole course has unique obstacles and can be set up indoors or outdoors.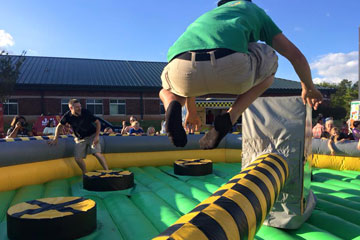 Interactive Inflatables Rentals in Glenview IL Great for the bigger kids and adults! Choose from a variety of fun activities including our amazing Mechanical Bull Rental, Toxic Meltdown 8 Player Inflatable Game Rental, Large Inflatable Obstacle Courses. Our popular competitive games include Combo Shootout Basketball Bungee Run, Sumo Wrestling Suits Rental, Double Axe Throwing Inflatable Game Rental, Soccer Kick Foot Dart Rental, Inflatable Boxing Ring, Pony Hop Inflatable Derby with Ponies. For large events and ultimate fun get our Thrilling Rock Wall Rental In Glenview IL. Having a dance party? The most fun you can have is with a Foam Pit Dance Arena, or a Disco Dome Xtreme Dance Party Bounce House Rental where your guests can party all night!! Have a multi-player game rental at your next event, don't miss out on all the action from our Wrecking Ball Rental! Euro Bungee Jump Trampoline Rentals. If you are looking for extreme fun and something unique, the Euro Bungy is it. A super trampoline system, that enables the participant to jump over two stories high accomplishing gravity defying maneuvers. Multiple bungee cords are attached to a harness which super boost the traditional trampoline experience, giving a gravity defying ride that has all the adrenaline of bungee jumping, but none of the risk.

Toxic Meltdown Eliminator Mechanical Rentals in Glenview IL Toxic Meltdown is our 8 player action game, which challenges your stamina, agility and reactions. The game is housed in a 30′ x 30′ octagon inflatable, with 8 removable podiums for your participants. The bright green contrasts beautifully with the black, grey and yellow for a vivid toxic meltdown theme. Meltdown is a fun game for the whole family. New and by popular demand we now offer the 4 player version of this thrilling ride. Toxic Meltdown Zone Mechanical Rental 4 Player available now!

Virtual Reality Roller Coaster Simulator Interactive Rentals in Glenview IL Can you imagine being able to ride a roller coaster in a desert island or in outer space? Know the waterfalls or venture yourself around a medieval city and encounter dragons on the way? Rilix Coaster, roller coaster simulator with virtual reality can provide these and many more experiences for you. There are more than 20 exclusive scenarios that will make you feel the adrenaline in your veins. If you are expecting a crowd consider getting multiple Mechanical Ride Rentals such as our Twister Swing Mechanical Carnival Ride Rental, Pirates Revenge Carnival Ride Rental, or Trackless Train Rental in Glenview.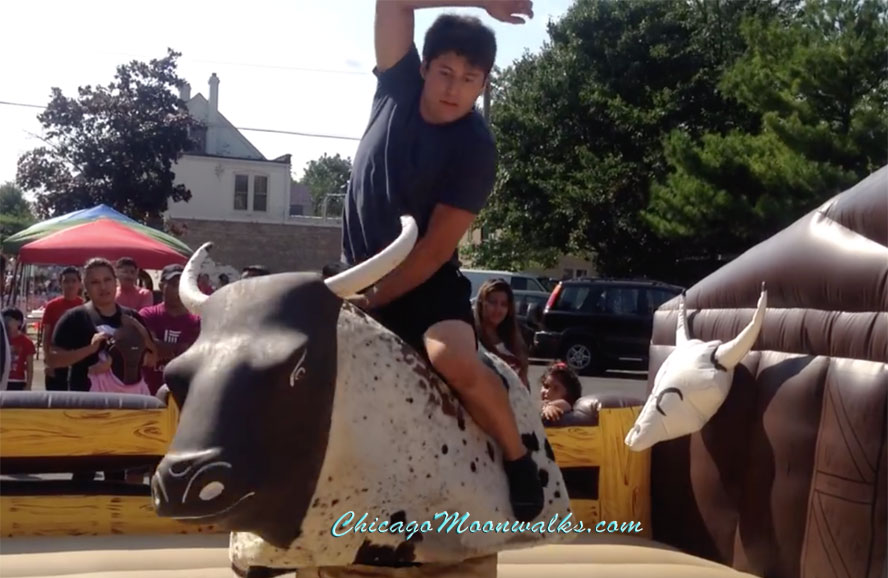 Mechanical Bull Rentals in Glenview IL We offer the safest Mechanical Bulls Rentals on the market. All of our Mechanical Bulls Include 2 trained attendants. Features Soft, Safe foam head. There are pre-set automatic competition levels which are linked to the LED time clocks. Auto Stop System, which insures the ride stops when riders fall off. If you are having a Luau or Tropical themed party, consider our Mechanical Shark Ride Rental. Great for Bars, Night Clubs, Adult and Children's birth day parties. School Events, Church Events, Block Parties, Bar Mitzvah Rentals. We have different size themed inflatables for the bull ride including Western Premium Mechanical Bull Rental, Toxic Mechanical Bull Rental, Mechanical Bulldog Rental, Mechanical Shark Rental, Deluxe Premium Mechanical Bull Rental.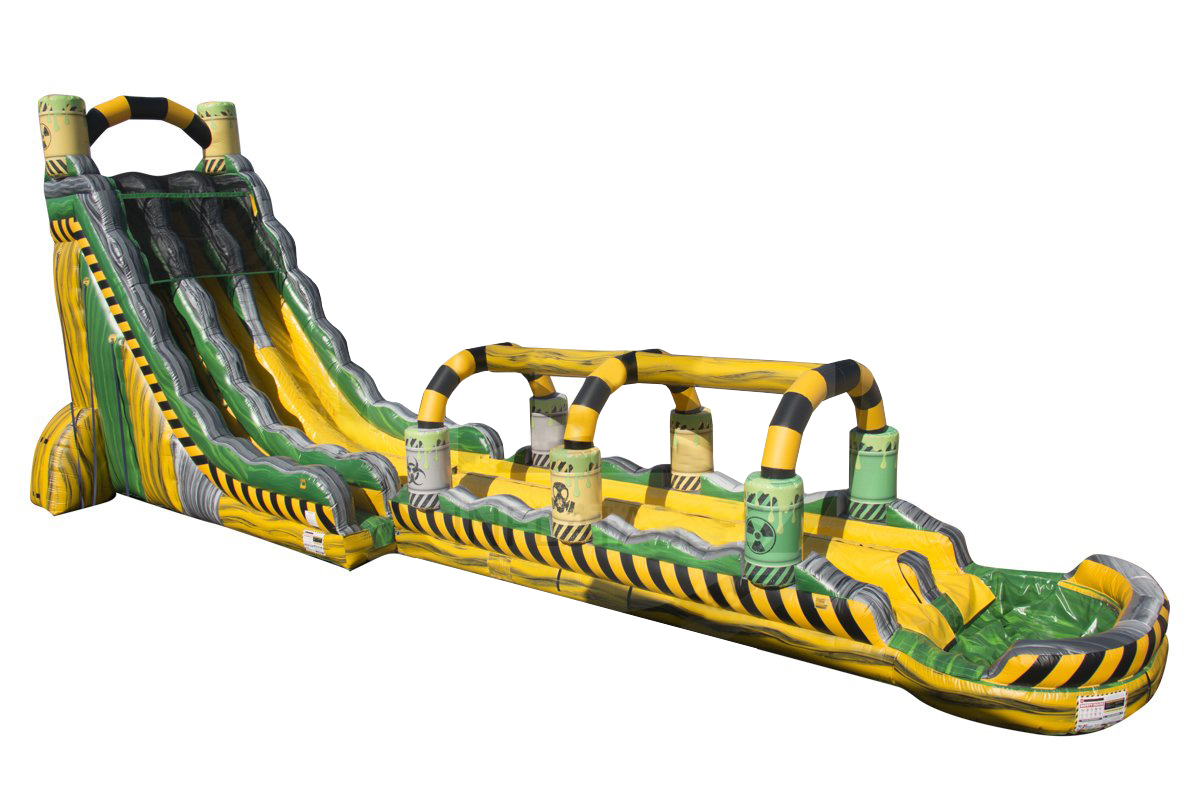 Water Slide Rentals in Glenview IL When it's hot outside, refresh your guests with our great Water Slide Rentals or Dunk Tank rentals. Always refreshing on a hot summer day. Most of our slides can be used wet or dry. Choose a plunge or splash pool, or even a slip n slide. A variety of themes, perfect to fit into any event idea or planning. Great for Luau Parties, or any Tropical Event.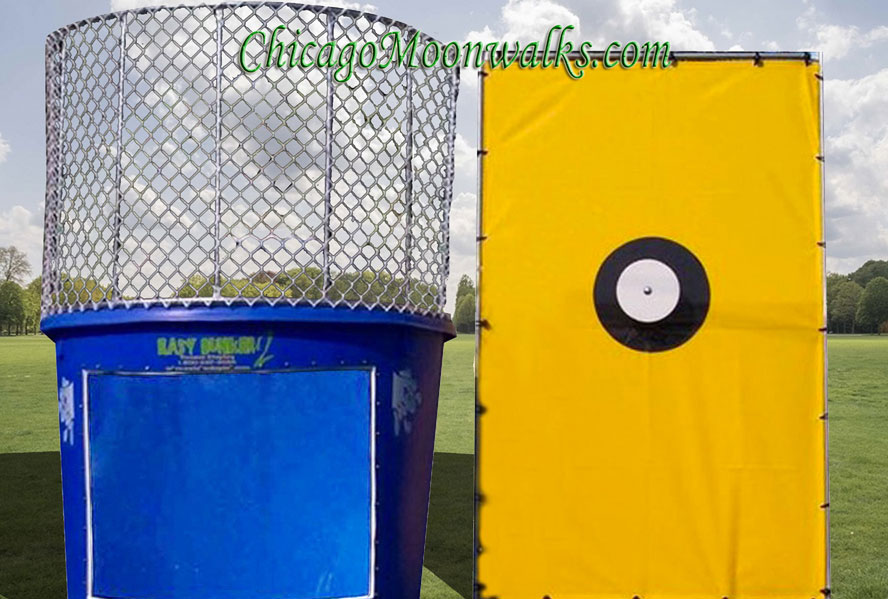 Dunk Tank Rentals in Glenview IL The Funniest, Coolest way to have Fun & Cool Off. Best way to get back at your Neighbors, Your friends, Your co-workers, Your boss, or even Your Spouse! Rent one of our 500 gallon dunk tanks, or if you have limited space, we also have dunk tank alternatives. Our newest dunk tank product is the Beat The Bucket Game Rental.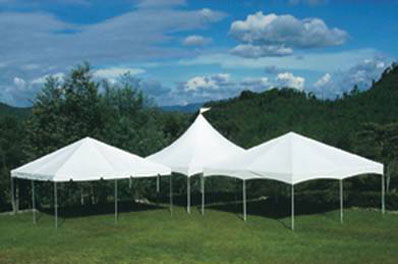 Table & Chair Rentals in Glenview IL We have a variety of Table and Chair Rentals, as well as packages. Our sturdy tables and chairs are the best on the market. All of our items are impeccably clean, and in perfect condition. Please note, If you are only ordering tables and chairs, please make arrangements to pick them up at our warehouse.

Tent Rentals in Glenview IL Create a sophisticated atmosphere with our High quality frame tent rentals. Tent Rentals, Great for providing protection from the elements. Create a perfect shade, guard against rain or shine. All of our frame tents feature heavy duty blackout white vinyl, no cross cables or center poles! Great for birthdays, weddings, or any special event or occasion. Call about our tent sizes and options today!

Face Painter Rentals in Glenview IL Our Face Painters are actual art students, with an eye on detail and presentation. Choose one of our award winning artists for your next event. Our versatile Face Painters can create designs with: Traditional Face Painting, Airbrush Face Painting, Airbrush Tattoos, and Glitter Tattoos.

Rockwall Rentals in Glenview IL The newest addition to Extreme Interactive Games. Our thrilling and exciting Portable Rock Climbing Wall Rental is a must for school and college events. Add never ending adventurous and safe fun to your next corporate event or birthday party! Safe and portable, includes 2 trained attendants.

Joust Rentals in Glenview IL Gladiators Ready! Players can challenge each other as they each climb up onto their pedestal. Using over-sized joust poles, each player attempts to strike, swat, and nudge each other off in an effort to be the winner! Pedestal Joust comes complete with headgear and a pair of jousting poles, making the Pedestal Joust inflatable game ready to start up a jousting tournament in minutes! Gladiator Joust Rental. We also have Sumo Suit Rentals! Sumo suits are hilarious for all types of corporate events, competitions and birthday parties. Have you ever dreamed of being a 500lb Sumo Wrestler? Well here is your chance!

Boxing Ring Rentals in Glenview IL Competitive, entertaining and great active fun! Inflatable Boxing Ring includes head gear boxing gloves. This colorful interactive game brings the joy of a bouncy house together with the world of boxing. Participants can experience a few rounds in the ring with this inflatable play structure, offering comical and entertaining take on the sport. Boxing Ring Rental in Chicago.

Inflatable Sport Game Rentals in Glenview IL We have all sorts of sport inflatable games for your entertainment. Great for competitions and school events. Rent one of our Football, Soccer, Basketball, Golf, Baseball or Hockey Games. We also have Obstacle Course Rentals, and Human Sphere, Hamster Balls, Zorb Balls with Zorb Obstacle Track.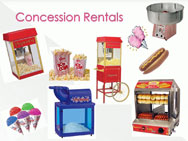 Concession Machine Rentals in Glenview IL Treat your guests to our yummy Concession Machines. Delicious warm freshly popped Popcorn, sweet Cotton Candy, refreshing Snow Cones, mouth-watering Nachos, We also have Pizza Oven rentals, Hot Dog Cart Rentals, Hot Dog Grills, Coolers and much more! We also offer the cutest Carnival Treat Shop Concession Booth Rental This is an inflatable replica of a classic food concession booth. Seriously beautiful! This fun-food booth will attract lots of attention. It includes plenty of space to set-up many fun-food machines along with four windows that can be used to serve from. Pink and white with gorgeous graphics.

Photo Booth Event Rentals in Glenview IL We offer the best packages for your next social event. We offer customizable packages great for Birthday Parties, Corporate Events, Weddings, Quinceaneras, Graduations, Post Prom and More! We also include fun props, gorgeous backdrops, and professional and attentive staff. Our booth will capture the memorable moments of your event. Open air booths are becoming more and more popular because more people can fit in one picture.

Trackless Train Rentals in Glenview IL This train is perfect for inside/outside events such as block parties,fall fest, winter fest, town events, malls, banquet facilities, churches, schools, birthday parties, grand openings, corporate functions, zoo's, family parties and so much more. Our trackless train features include: Stereo system/CD player, Public Address system, Sounds of a real train, Smoke machine, Hand crafted wood interior/exterior coaches, and Lights so it can run in the night. Get a beautiful Kiddie Trackless Train Rental for your next celebration or event in Glenview, Illinois.

Glenview IL Forest preserves Events & Party Services We can offer the whole package to your event. We provide Inflatables Moonjump Bouncer, Frame Tents, Mechanical Rides, Carnival Games, Tables & Chairs, Concession Machines, Face Painter. Water Slide Rentals, Dunk Tanks, and much more! Euro Bungee Rentals, Euro Bungy Trampoline Rentals in Glenview.
We are fully insured and can deliver at any park or forest preserve within our delivery area.

Party Rentals in Glenview, IL 60016 60025 60026 60029 60062 60082