Packages
Chicago Moonwalks Party Package Rentals
Proudly serving Chicagoland & Suburbs.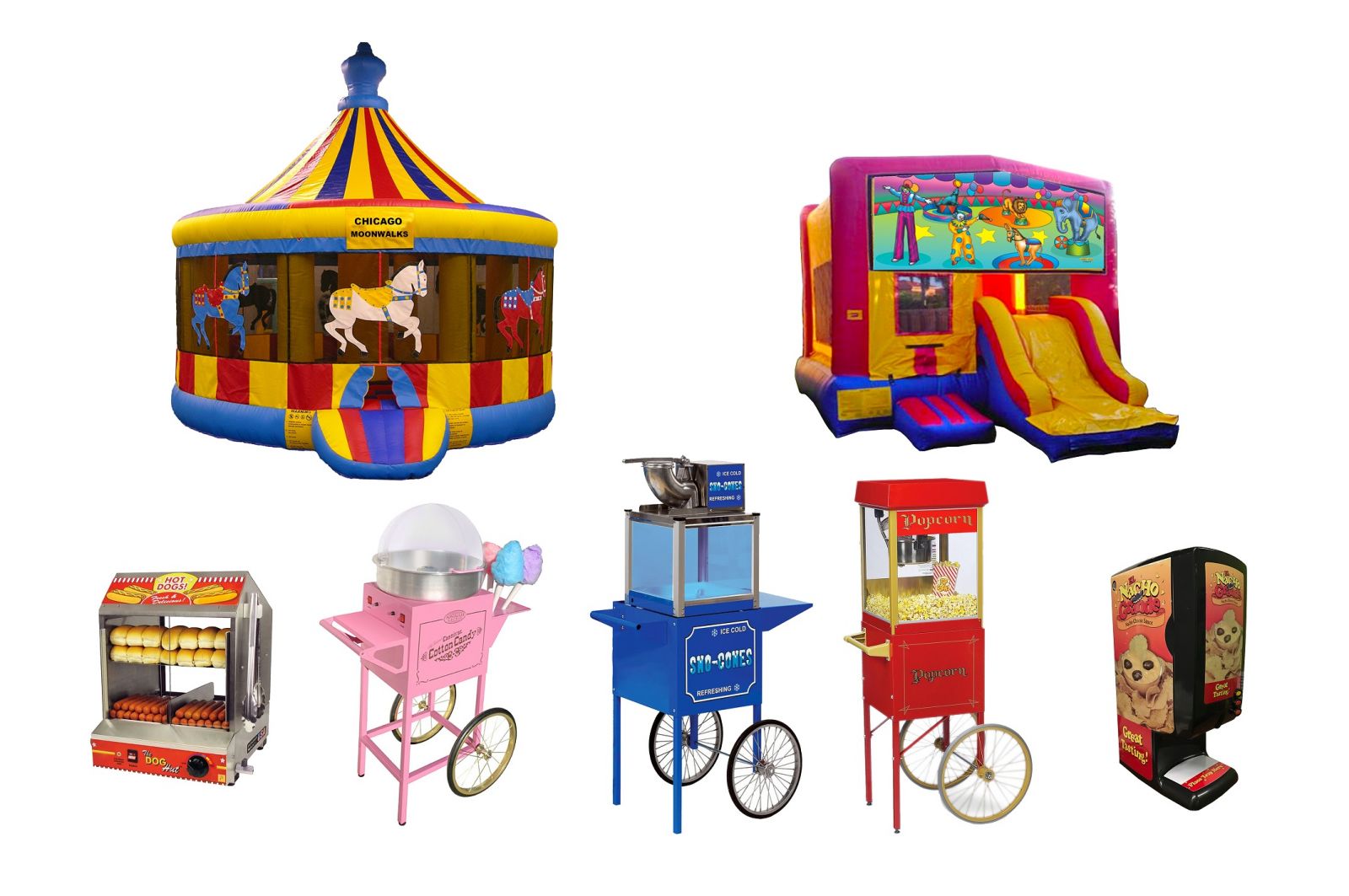 We offer a great selection of party packages for your convenience. Choose from bounce house packages, water slide packages, concession machine packages, themed inflatables, obstacle course rentals and interactive games.
Please check our Service Area for all the cities we deliver to. Chicago Moonwalks is Illinois State Inspected. We are fully insured, and can serve public and private events and parties. Are you having a public or private event? If you are not sure if your event is private or public, visit our Public Events page.

Please be sure to measure your backyard or location prior to choosing a Package.
Service and Delivery Areas
We Deliver To The Following Areas
Chicago Illinois and Nearby Suburbs & Cities
If your city is not listed, we might be able to service your event. Please contact us for more information. 312-330-0925.
*We may deliver to your city, depending on the date of your event, and the size of your order.
We may service the following cities and areas within Illinois: ADDISON ALGONQUIN* ALSIP ARLINGTON HEIGHTS* AURORA* BARRINGTON* BARTLETT* BATAVIA BEDFORD PARK BELLWOOD BENSENVILLE BERKELEY, BERWYN BLOOMINGDALE* BLUE ISLAND BOLINGBROOK* BOURBONNAIS BRIDGEVIEW BROADVIEW BROOKFIELD BUFFALO GROVE* BURBANK BURR RIDGE CALUMET CITY* CALUMET PARK* CAROL STREAM* CARPENTERSVILLE* CHICAGO CHICAGO HEIGHTS* CHICAGO RIDGE CICERO CLARENDON HILLS COUNTRY CLUB HILLS* COUNTRYSIDE CRESTWOOD DARIEN DEERFIELD* DES PLAINES DIXMOOR DOLTON DOWNERS GROVE* DUNDEE* ELGIN* ELKGROVE VILLAGE* ELMHURST ELMWOOD PARK EVANSTON EVERGREEN PARK FLOSSMOOR* FOREST PARK FOREST VIEW FORT SHERIDAN* FOX RIVER GROVE* FOX VALLEY* FRANKFORT* FRANKLIN PARK GLEN ELLYN GLENCOE* GLENDALE HEIGHTS* GLENVIEW GLENWOOD* GOLF HANOVER PARK* HARVEY HARWOOD HEIGHTS HAZELCREST* HICKORY HILLS HIGHLAND PARK* HIGHWOOD* HILLSIDE HINES HINSDALE HODGKINS, HOFFMAN ESTATES* HOMER GLEN* HOMETOWN HOMEWOOD* INDIAN HEAD ITASCA JOLIET* JUSTICE KENILWORTH LA GRANGE PARK LA GRANGE LAKE BLUFF* LAKE FOREST* LAKE ZURICH* LANSING* LEMONT LIBERTYVILLE* LINCOLNSHIRE* LINCOLNWOOD LISLE LOCKPORT* LOMBARD LONG GROVE* LYONS MARKHAM MATTESON* MAYWOOD MCCOOK MEDINAH* MELROSE PARK MERRIONETTE PARK MIDLOTHIAN MOKENA* MORTON GROVE MOUNT PROSPECT* MUNDELEIN* NAPERVILLE* NEW LENOX* NILES NORRIDGE NORTH CHICAGO* NORTHBROOK* NORTHFIELD NORTHLAKE OAK FOREST* OAK LAWN OAK PARK OAK BROOK OAKBROOK TERRACE O'HARE OLYMPIA FIELDS* ORLAND PARK PALATINE* PALOS PALOS HEIGHTS PALOS HILLS PALOS PARK PARK RIDGE PLAINFIELD* PLATO CENTER* POSEN PROSPECT HEIGHTS* RIVER FOREST RIVER GROVE RIVERDALE RIVERSIDE ROBBINS ROLLING MEADOWS* ROMEOVILLE* ROSELLE* ROSEMONT SCHAUMBURG* SCHILLER PARK SKOKIE SOUTH HOLLAND* STICKNEY STONE PARK STREAMWOOD* SUMMIT TECHNY* THORTON* TINLEY PARK* VERNON HILLS* VILLA PARK WARRENVILLE* WEST CHICAGO* WESTCHESTER WESTERN SPRINGS WESTMONT WHEATON* WHEELING* WILLOW SPRINGS WILLOWBROOK WILMETTE WINFIELD* WINNETKA WOOD DALE WOODRIDGE WORTH
We may service the following zip codes within Illinois:60004, 60007, 60016, 60017, 60018, 60019, 60025, 60026, 60029, 60043, 60053, 60062, 60065, 60068, 60076, 60077, 60082, 60091, 60093, 60101, 60104, 60105, 60106, 60108, 60126, 60130, 60131, 60133, 60137, 60138, 60139, 60141, 60143, 60148, 60153,60154, 60155, 60157, 60160, 60161, 60162, 60163, 60164, 60165, 60171, 60172, 60176, 60179, 60181, 60187, 60191, 60201, 60202, 60203, 60204, 60208, 60209, 60301, 60302, 60303, 60304, 60305, 60398, 60402, 60406, 60415, 60419, 60426, 60428, 60439,60440, 60445, 60446, 60448, 60452, 60453, 60454, 60455, 60456, 60457, 60458, 60459, 60462, 60463, 60464, 60465, 60467, 60469, 60472, 60480, 60482, 60490, 60499, 60501, 60513, 60514, 60515, 60517, 60521, 60522, 60523, 60525, 60526, 60527, 60532,60534, 60540, 60546, 60558, 60559, 60561, 60563, 60564, 60565, 60570, 60601, 60602, 60603, 60604, 60605, 60606, 60607, 60608, 60609, 60610, 60611, 60612, 60613, 60614, 60618, 60622, 60623, 60625, 60626, 60629, 60630, 60631, 60632, 60634, 60635,60638, 60639, 60640, 60641, 60642, 60643, 60645, 60646, 60647, 60650, 60651, 60652, 60654, 60655, 60656, 60657, 60659, 60660, 60661, 60706, 60707, 60712, 60714, 60803, 60804, 60805, 60827